A few years ago I stopped running Competitor campaigns for most of my clients because how people interacted with those adverts had changed. Whereas Competitor campaigns were a staple of every good Google Ads account when I first started in the industry, by 2018 I had client after client say to me that they had started to get calls from people making complaints about their competitors. These people had clicked on the first advert that appeared when they did a search for the competitor and assumed that the people they were calling were that company.
I know it seems pretty outrageous that people would just click on an advert without reading the ad text first. But then I run a bit of unintentional experiment. In 2019 one of my clients that used to run fun days for corporate clients complained that too many people were calling him for personal hire rather than corporate hite. These people were stag and hen do's (also known as bucks partys / bachelor parties etc in other countries). To stop these people clicking on his ads he wanted me to put in the title "No stags or hens". So we did that. And guess what? It did not reduce the number of stag or hen do phone calls at all. Whenever these people rang, the company owner said to them that the advert specifically says "No stags or hens". They would respond by saying "I didn't read the ad. I just clicked on it".
From then on I realised that people have stopped reading ads and that they have little impact on success in Google Ads anymore. The only reason to use them is to stuff with keywords so to achieve the highest quality score possible.
Further evidence of this was in January 2021. One of my biggest clients were contacted by the Financial Conduct Authority and told that they had 7 days to update their ads or they would be fined. They had to take out any kind of promotion and had to explain that people didn't have to use them to make a claim, that they are a claims company that charges for their service and that people could make a claim directly for free. If people did read ads anymore, this would have absolutely killed the campaigns. But luckily people do not.

As you can see from the below, the ads were changed on the 13th and again on the 14th of January.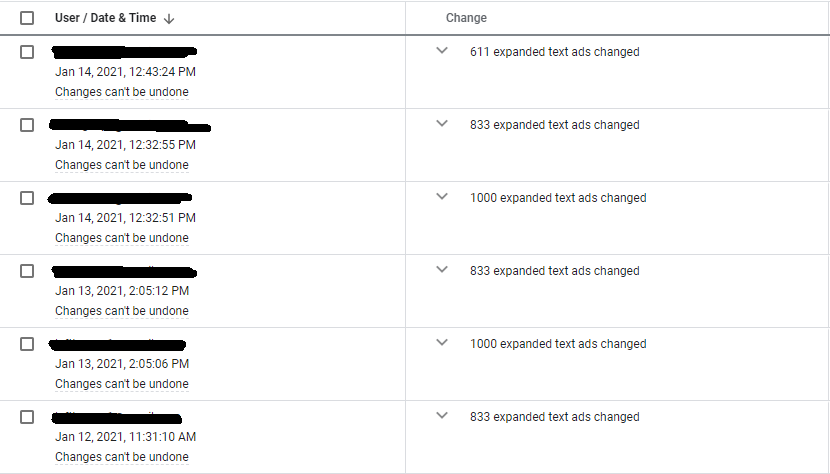 Rather than it killing click through rate, click through rate only fell by 0.88%. So it had a tiny impact, but in general it did not affect the campaigns at all. Click through rate remained high at 20.18% despite the ads being more of a deterrent to people clicking on them rather than an advertisement.


So there you go. Hard proof that people in general do not read adverts on Google anymore and the text in ads therefore make little difference to performance.